On Saturday, September 19th, 2015 members of the Nittany Amateur Radio Club (NARC) provided communications support to the Annual Penn State 4-H Competitive Trail Ride in the Rothrock State Forest.  Centre Communications of Bellefonte PA again loaned their Display Vehicle to the Emergency Coordinator who set the unit up at the race midpoint.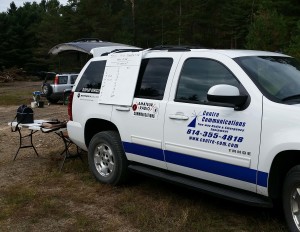 The Display Vehicle not only provided a VHF radio but also a comfortable location with a table and a white board.  Here the operator, K3CWP, used the white board to note when riders entered and left the midpoint.  This allowed race organizers to see the status of the riders at a glance.  After the midpoint closed the SUV transported two operators to the last checkpoint before the riders entered a very rough 'horse only' trail.
Special thanks to Centre Communications sales representative Kevin Ermol and owners Karl Hosterman, K3ARL and Eric Brooks, N3EB for the use of this valuable asset.